Chawipe Cleenol Chemical Products
Cleenol Pine Disinfectant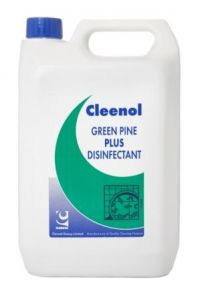 A quality disinfectant with a pine fresh fragrance. A premium grade disinfectant with improved disinfecting qualities. (twice the power of most other products)
Removes unpleasant odours.
Quantity: 2 x 5 Litre.
Suitable for use on:
Floors - Walls - Drains - Bins

Cleenol Concentrated Detergent
Designed for commercial contract manual dishwashing. A high active 20% green detergent that out-performs standard detergents. Ideal for large industrial wash sinks. Concentrated formula for increased economy. Sold in 5lt container.

Cleenol Bactericidal Liquid Soap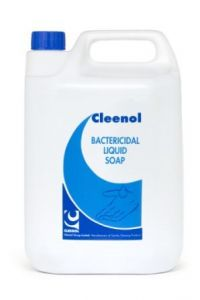 High quality bactericidal based liquid soap. Designed for food preparation and production areas. Cleans and sanitizes hands in one operation. Leaves hands clean, fresh, smooth and conditioned.5lt

Cleenol Luxury Liquid Soap
A delicate apple fragranced pearlised green liquid soap. Ideal for front of house washrooms. Leaves hands clean, fresh, smooth and conditioned

Cleenol Lemon Gel Cleaner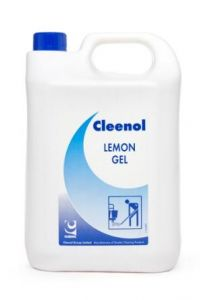 A general purpose floor maintenance water soluble gel with a refreshing lemon fragrance. For the daily cleaning of polished or untreated floor surfaces. Will not strip polished floor finishes. Can be used in a hand spray or by mopping.

Cleenol High Solids Polish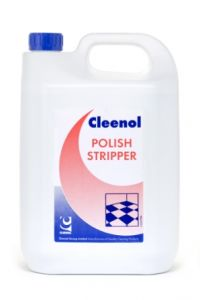 A 25% solids metalized floor polish for medium to heavy traffic areas where a hard wearing deep lustrous finish is required. No need for buffing. Dries to a high gloss finish. Use on all sealed and non porous.

Cleenol
Bactericidal
Multi Purpose Cleaner
A high quality performance product providing a high standard of cleaning, degreasing and disinfection. Designed for a wide variety of applications, e.g. the cleaning of
Floors - Walls -
Equipment
Also for cleaning the interiors of food delivery vehicles. Its built in residual antistatic properties protect from the risk of static shock. Can be used through pressure washer or foaming equipment. Complies with BS6424 Group QAP50. Approved and tested against MRSA bacteria.

Call our team or

Contact Us

today on 021 4323140 or Roy on 087 6360730