Cleenol Lift Trigger Products
Lift Original Multi-Purpose Cleaner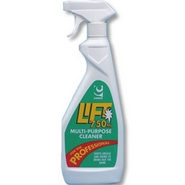 The original Lift formulation for the professional cleans a multitude of surfaces. Fresh pine fragrance. Powerful cleaner/degreaser and is ideal for removing greasy soiling such as body scum, from baths, showers and wash basins and for cleaning gloss paintwork, tiled surfaces and light fittings.
Safe to use on all surfaces including glass, plastics, melamine, wood, paintwork and floors.
Not recommended for use in food preparation and storage areas or in the kitchen.
Ready to use on
Floors,
Walls,
Ceramics,
Plastics,
Vinyl,
Stainless steel.
In boxes of 6x500ml

Lift Spray Cleaner with Bactericide
Formulated for total hygiene. A liquid detergent with a powerful bactericide for use in one stage cleaning and sanitizing. Extremely effective hard surface cleaner capable of removing a wide variety of ingrained and greasy soils.
Ideal for cleaning of food preparation areas and areas involved in the processing of meats, creams and other foods that may carry high risk bacterial contamination.
Used to clean and disinfect refrigerators, freezers, cold displays and salad bars.
Anti-microbial activity - effective against both gram negative and gram positive bacteria.
Ready to use on:-
Microwaves,
Chopping boards,
Cupboards,
Fridges and freezers,
Non-tainting
In boxes of 6x500ml

Lift Window and Mirror cleaner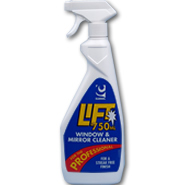 A unique formulation giving exceptional sparkling, streak-free results every time. Produces a sparkling, streak-free finish on glass, ceramic tiles, highly polished stainless steel, chrome finishes, laminates and a variety of other hard surfaces.
Can be used in sensitive areas such as food preparation areas. Removes a wide range of soils including:-
Atmospheric grime,
Nicotine stains,
Finger marks,
Dead insect marks.
In boxes of 6x500ml

Lift Antibacterial Citrus Bath Washroom Cleaner
An effective foam cleaner and descaler. Ideal for cleaning and descaling surfaces such as:-
Taps,
Baths,
Showers,
Ceramics and porcelain surfaces.
Leaves rooms sanitized, deodorised and scale free.
Proven to be effective against MRSA

.
In boxes of 6x750ml

Lift Furniture Polish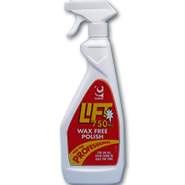 Formulated to give furniture and fittings a deep lustrous finish. Produced from the highest quality materials to give exceptional results every time. Not for use on waxed or lacquered furniture. 5L refill pack available for maximum economy. In boxes of 6x750ml Formulated to give a fast 'clean and shine' in one operation. Removes dust and finger marks with ease. Use on:-
Paintwork,
Enamel,
Laminates,
Plastics,
Sealed wooden surfaces
In boxes of 6x750ml

Call our Chawipe team or Contact Us today on 021 4323140 or Roy on 087 6360730